Custom made photo wallpapers in big kitchen can successfully replace commonly used ceramic tiles. For kitchens there are designed photo wallpapers glued to the wall, laminated to increase resistance to moisture. Another kind is self-adhesive photo wallpaper glued on furniture and household appliances. The theme of kitchen motifs is wide – from flowers and fruits to panoramas of cities and breathtaking views. On a large wall without furniture we can stick a photo wallpaper 3d optically enlarging the space.
Photo wallpaper in big kitchen – how to choose?
When choosing a photo wallpaper for a large kitchen, it is worth to think about the patterns of warm colors that will make the large interior more cozy. An interesting proposal will be a geometric motif of mandala, made in lively colors that will give the room mobility and introduce an interesting color accent.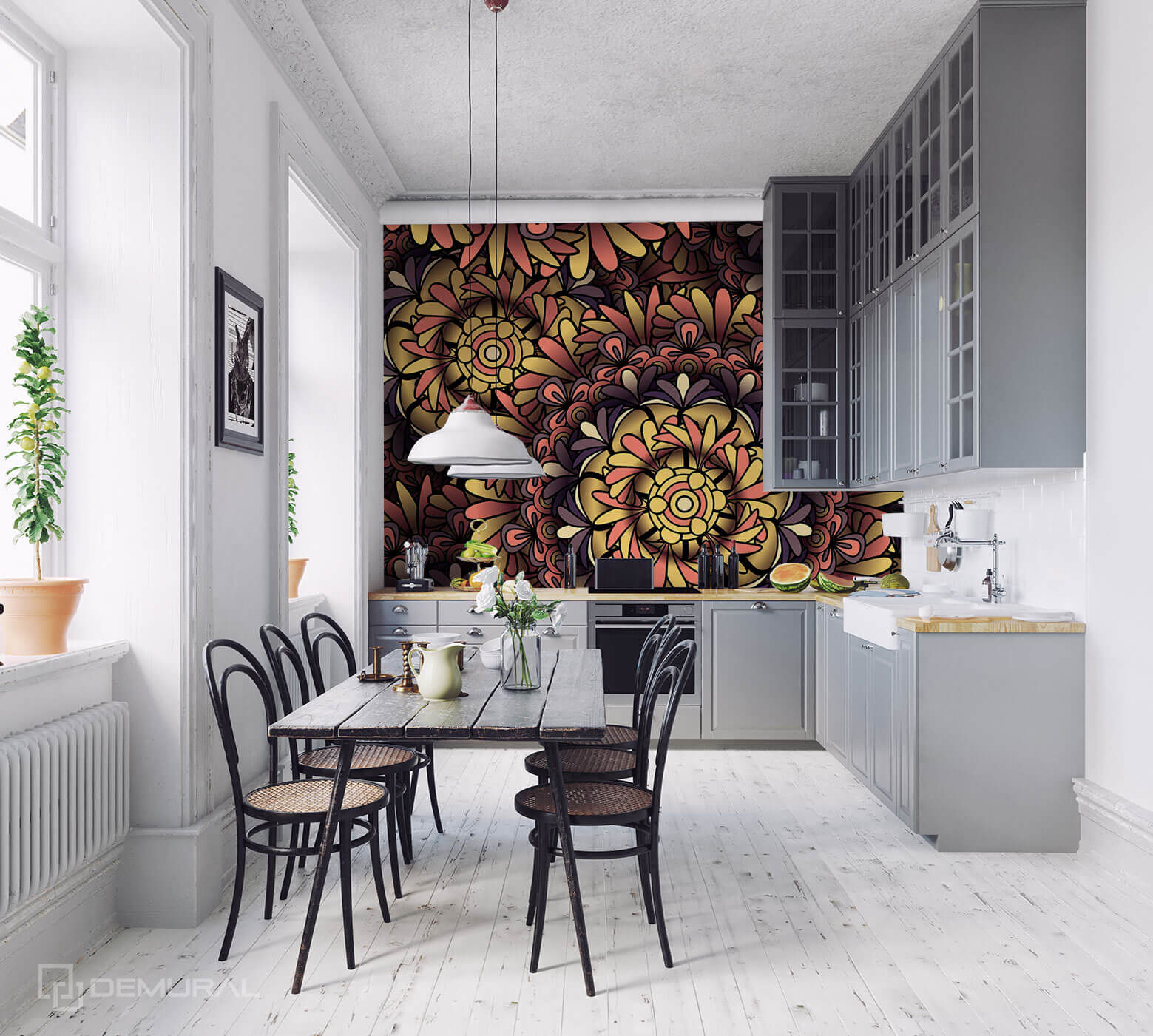 The use of photo wallpaper in big kitchen is a very easy and effective way to optically enlarge a small room. Deciding for example on a wallpaper with three-dimensional overprint, you will add depth to your kitchen, so you can get the effect of optical magnification. Very fashionable are also wallpapers with prints showing panoramas of big cities, perfectly blending in with modern, industrial kitchens. For a retro-style kitchen it is worth choosing a photo wallpaper decorated with a photo depicting various geometric figures. Photo wallpaper with a floral motif will perfectly emphasize the character of a romantic interior.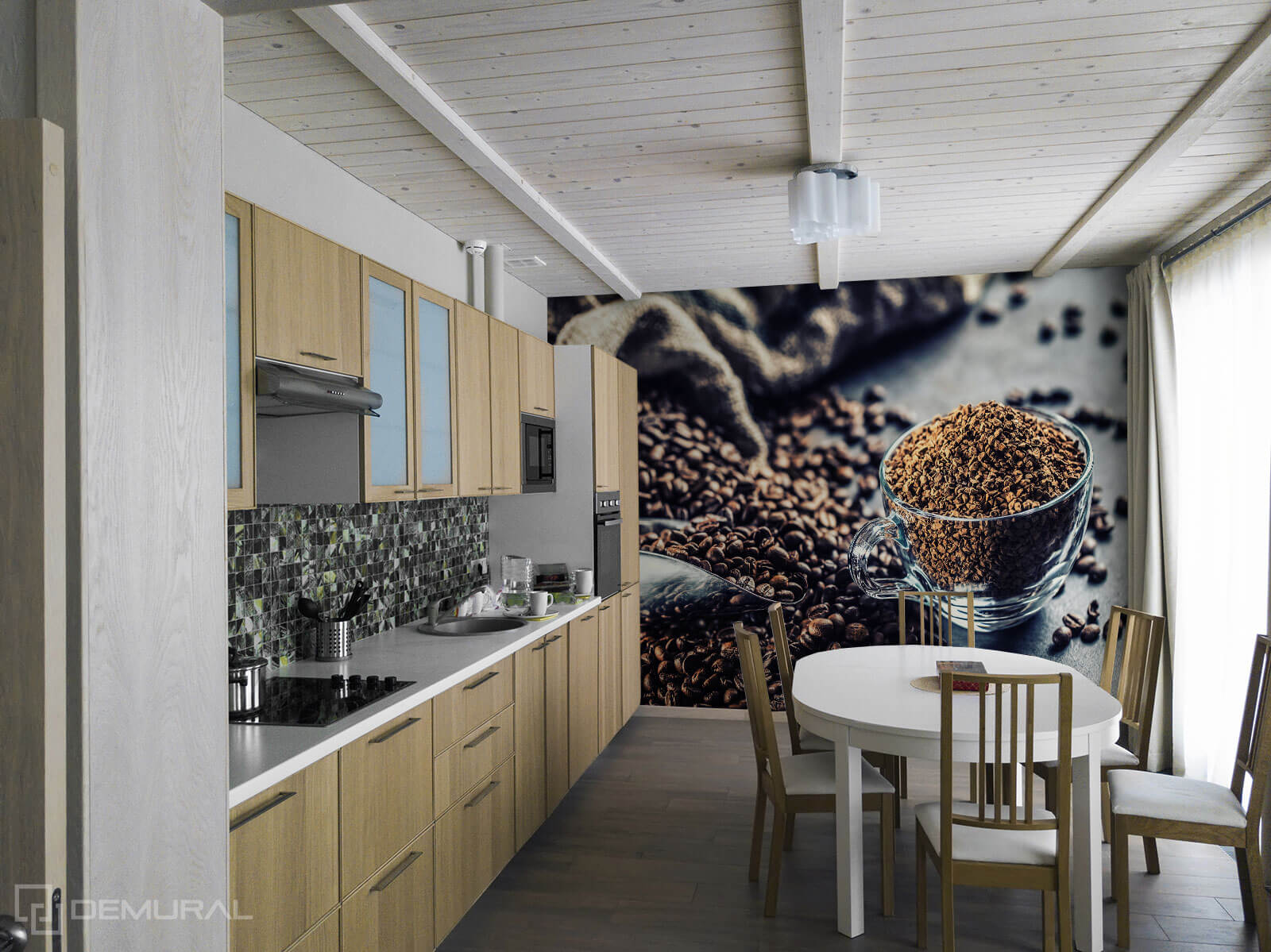 The best effect can be achieved by covering the whole wall with wallpaper, but a very popular solution is also decorating a fragment of the wall above the worktop. Fashionable photo wallpaper in big kitchen is a good idea for a small lifting or a complete change of the room.
The kitchen is a place where we spend a lot of time preparing meals, so we could use a wallpaper resistant to moisture and easily washable.
Laminated photo wallpaper
Vinyl wallpapers are covered with waterproof PVC or plastic. They are resistant to moisture, stains and dirt. Thanks to this type of wallpapers are popular and suitable for use not only in kitchens but also in bathrooms.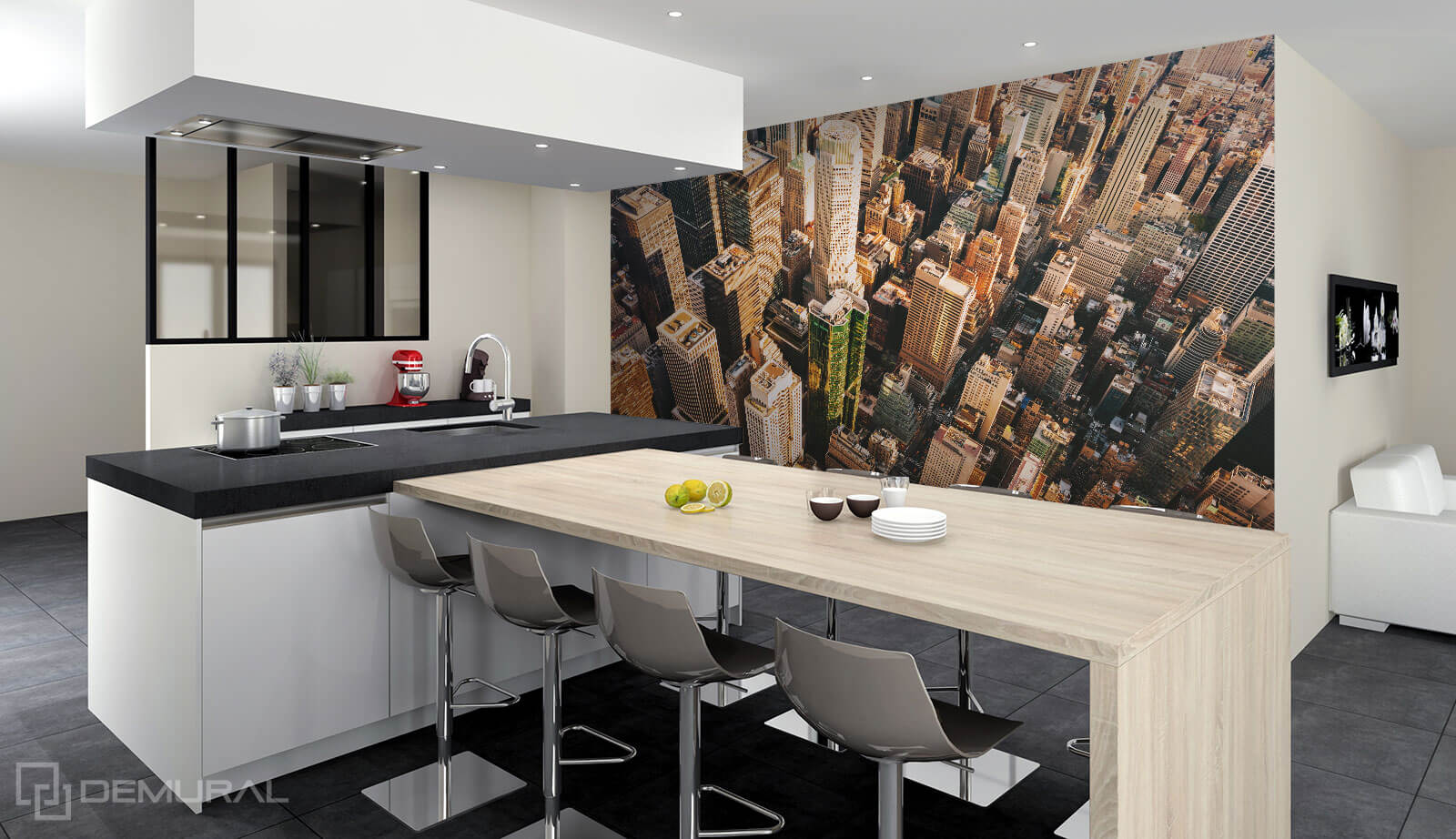 Glass fibre photo wallpaper
This type of wallpaper is extremely resistant to all kinds of mechanical damage. There are no traces of scratches, they can be easily washed or even scrubbed.
Paper photo wallpaper
They have poor resistance to difficult conditions in the kitchen and can be quickly destroyed. Many manufacturers offer photo wallpapers made of synthetic paper, additionally covered with a layer of laminate. Such a protected image has a high resistance to abrasion and will not fade under the influence of sunlight.
Photo wallpaper instead of tiles
A very popular solution recently is to protect the photo wallpaper with a plate of plexiglass or glass. This is an excellent alternative to ceramic tiles and at the same time it helps to protect the wall above the worktop from grease splashes and other impurities that simply cannot be avoided during cooking. Plus, it's extremely easy to keep clean – just wipe it off with a damp cloth or sponge.