Until recently, ceramic tiles were the most practical form of finishing walls in the kitchen. They undoubtedly have their advantages: they are resistant to water and moisture, and their smooth surface is easy to keep clean. More and more often, however, we decide to decorate walls in the kitchen with fashionable photo wallpapers, which show the same properties as tiles, and in addition, look impressive. Photo wallpapers for kitchens are made of special materials, resistant to the conditions prevailing in the kitchen during the preparation of meals. A variety of designs of photo wallpapers makes it possible to choose the one that best suits the kitchen interiors or the dining room.
Coffee photo wallpaper
Morning coffee lovers will surely like the motifs depicting their favorite energy drink, known and used for many centuries. Drinking coffee has become a ceremonial celebration in many countries. With mystical meaning – roasting the coffee beans, then grinding and finally brewing according to a specific recipe. By following the order of the individual activities and using the right amount of ingredients. You can obtain a wonderful, aromatic brew. Coffee brewed according to a traditional recipe tastes delicious. Unfortunately, we do not have much time to follow the classic barista recipes. If we want to stimulate quickly, simply pour a teaspoon of coffee into a cup and pour boiling water. Apart from its taste and aroma, coffee also has esthetic qualities. It is a beautiful, deep brown color. This color is full of stability, peace and harmony. It has a calming effect, supports concentration and facilitates the acquisition of knowledge. The coffee motif on the wall will make the room warm and cosy, and staying in it will work like a mug of strong espresso.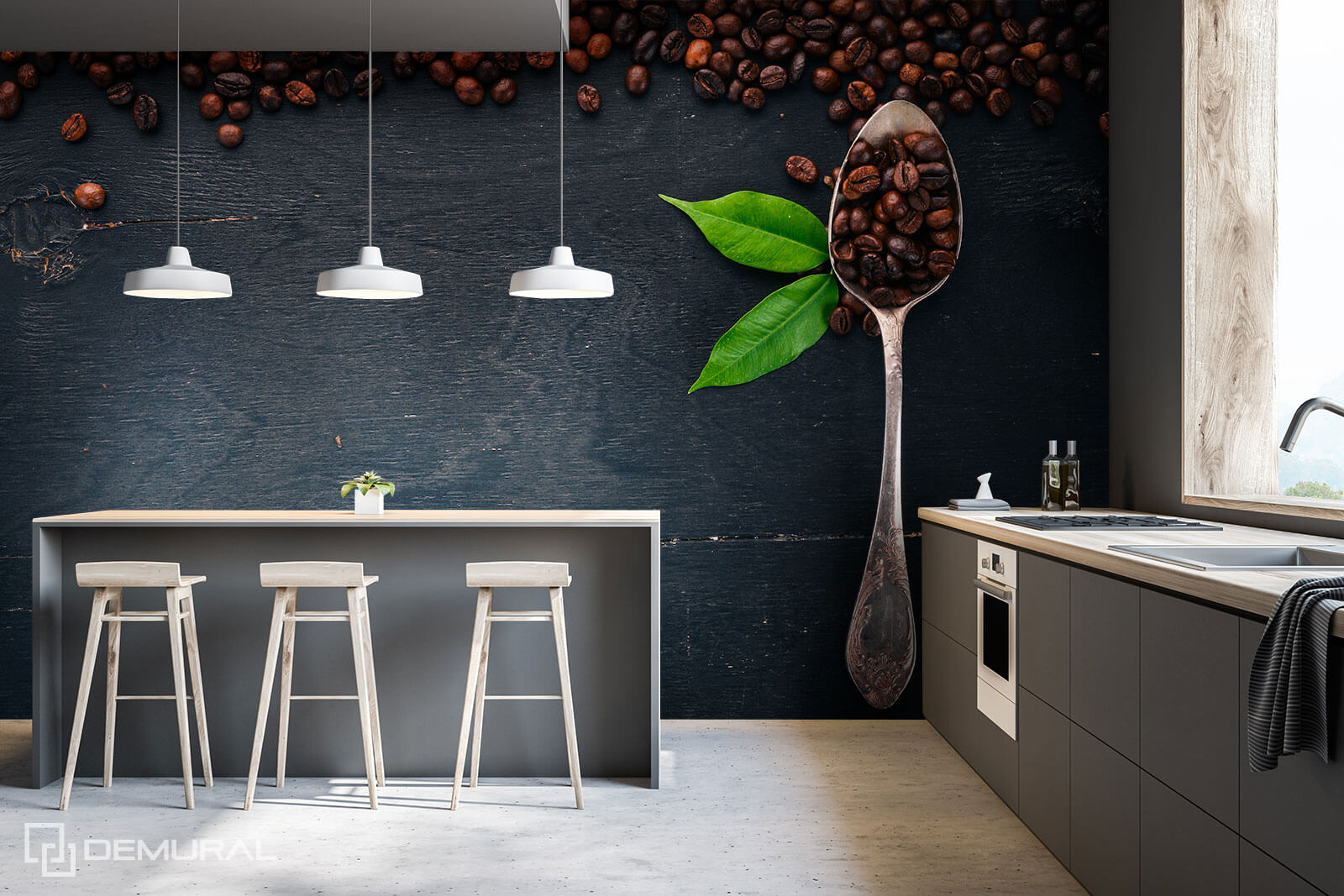 Coffee photo wallpaper is an offer for the biggest lovers of this drink. Photo wallpaper depicting a cup of hot coffee not only beautifies the interior of the kitchen and dining room. It also makes us feel good. Such decorations will make us start every morning in a perfect mood.
Drinking coffee in the background of a large-format photo of our favorite brew will make every sip taste delicious.
Coffee photo wallpaper look best in the kitchen or dining room. Round beans, cups full of hot nectar, tempting thick foam and artistic shots of classic coffee mills – a glance at such a photo wallpaper is enough to satisfy your hunger and provide yourself with a solid dose of energy.
Photo wallpaper with coffee for the kitchen and dining room – how to choose?

When choosing a photo wallpaper for the kitchen, you should take into account all the features of the room, namely: increased moisture content and the need for frequent wet cleaning in order to maintain proper cleanliness in the room, in which case the best solution will be wallpapers made of washable materials, e.g. photo vinyl wallpaper covered with laminate. They perfectly withstand all care treatments, dry and wet washing, even with strong detergents, they are also waterproof, even significant wetting with water is harmless to the wallpaper.